These are the Lego Friends polybag sets. Polybags are very small sets in bags rather than boxes. They range from 25 to 45 pieces each.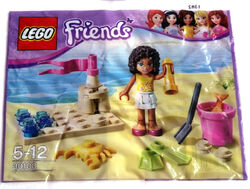 This bag builds
Andrea
, a sandcastle, and other beach items.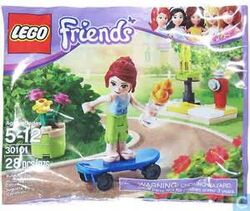 This bag builds
Mia
, a skateboard, a drink, and some scenery. It has 28 pieces.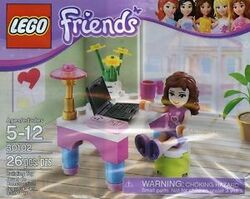 This bag has 26 pieces, and builds Olivia, a laptop, a desk and a seat.
This bag has 32 pieces to build
Emma
and a tiny car.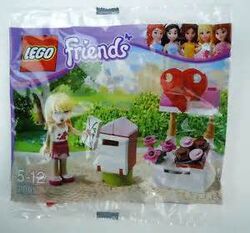 This bag has 41 pieces, which build
Stephanie
, a mailbox, and a stand with flowres and cupcakes.
Ad blocker interference detected!
Wikia is a free-to-use site that makes money from advertising. We have a modified experience for viewers using ad blockers

Wikia is not accessible if you've made further modifications. Remove the custom ad blocker rule(s) and the page will load as expected.