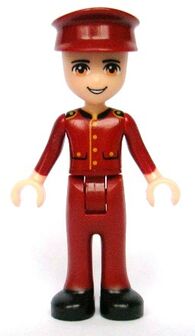 Nate is one of the many minor Friends characters.
Nate is falling in love Stephanie. They're one of most definite pairs from whole LEGO Friends. He has a part-time job as an advertiser of the hot dog stand in Amusement Park and as a bell-boy at the Grand Hotel.
In the episode, "The Grand Hotel", he is portrayed as wanting to get the attention of Stephanie, and has a crush on her. He also fumbles and yells, "FLARGENBURGAL!!" In "LEGO Friends: The Power of Friendship", he is in 'Slam Dunk' as a girly hamster mascot. This proves him as a silly, outgoing character.
He is Stephanie's love interest and is friends with Stephanie's friends. He is cool, easygoing, and generally a good person. Nate likes to hang with his girlfriend Stephanie, and will do almost anything to make her happy.
Relationships
Edit
Nate is Stephanie's love interest. They grow friendly in the webisodes on the official website (lego.com/friends) webisodes. He is a friend of Stephanie's friends, Olivia, Mia, Emma and Andrea.
Appearance
Edit