Liza is a friend of Olivia, Emma, Andrea, and Stephanie. But she is a cousin of Mia. She has blond hair and blue eyes. Liza is a year younger than Mia, and looks up to her cousin. Mia is so caring and has such great friends; Liza wants to be just like her. Liza is a keen member of Heartlake High's Farm Club. 
Webisodes Appeared In
Edit
The Trapped Foal - Season 1 episode 2
The Backside of Hockey - Season 2 episode 51
Sets Included In
Edit
Sunshine Ranch
2015 Advent Calendar
Similar Characters
Edit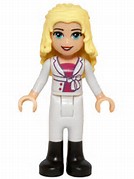 Ad blocker interference detected!
Wikia is a free-to-use site that makes money from advertising. We have a modified experience for viewers using ad blockers

Wikia is not accessible if you've made further modifications. Remove the custom ad blocker rule(s) and the page will load as expected.