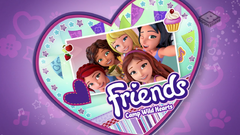 LEGO Friends: The Power of Friendship
is an animated series exclusive to
Netflix
based off of the LEGO Friends series.
Five best friends face adventures side by side in their hometown. Zany antics, love and missteps are better with friends!
Fun Facts
Edit
The octopus logo found on many things related to Mayor Butaire - is similar to a symbol found in the James Bond movies.
Synopsis: The friends' beloved summer camp faces a sneaky threat. Mia wonders if her competitive streak will get in the way of a budding romance.
Synopsis: With their basketball season headed for disaster, the friends get some much needed help from an unexpected source.
Synopsis: To save their webcast, the friends shoot a documentary about pop star Livi. But they have trouble sticking to their pledge to keep things honest.
Synopsis: Stephanie's week goes from bad to worse when she's forced to share a room with her biggest rival; the spoiled and snooty Tanya.
Synopsis: It's Stephanie VS Tanya for Heartlake High class president. But when Tanya resorts to dirty tricks, Stephanie reacts.
Synopsis: The girls are enjoying Heartlake Amusement Park. That is until Emma types a text to Mia, but sends it to Matthew by mistake.
Synopsis: At the Country Club where she teaches, Mia's heroic rescue of a puppy and a horse earns the gratitude of their owner, Fiona.