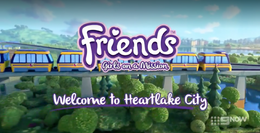 LEGO Friends: Girls on Mission is the 2018 reboot TV series produced by the 
LEGO Group
. Instead of 22 minutes (like the previous series) the episodes are 11 minutes.
Overview
Edit
Meet Andrea, Mia, Emma, Olivia and Stephanie. They're five best friends. And they're on a heroic mission: to save Heartlake City from wily swindlers.
Fun Facts
Edit
Episodes
Edit
Synopsis: The girls form a group of super-doers to serve and protect their beloved Heartlake City.
Synopsis: When Emma's mural gets spray painted, the girls go after the culprit and find an abandoned firehouse.
Synopsis: Andrea tries to make her little sister more like her... only to realise, they may already be alike.
Synopsis: An attempt to catch the graffiti artist who's been leaving his mark all over town, leads to a forest fire in the woods.
Synopsis: Stephanie's competitive side gives the girls a front-row seat to a cheating scandal and the group out to expose it.
Synopsis: Plans to tear down the Arts District make Olivia question everything she believes in.
Synopsis: The girls give Hazel's shop a makeover, but can they stop the shops in the Arts District from being demolished?
Synopsis: Andrea's quest to be a pop star takes her to new heights, and the girls catch a bad guy in the act.
Synopsis: The girls have taken up a new hobby of Go-Karting, but the arrival of reigning champion Vicky ruins all the fun of their activity. Dr Alva is also causing problems at the Heartlake Resort when she opens a tech convention and makes the girls give up their recreational teaching activities.
Synopsis: The girls are getting ready to compete in the qualifying heats for the upcoming Grand Prix with their new racing coaches. A gift for Dottie Rae inspires them to improve their own Go-Karts.
Synopsis: Stephanie is bored with her job as a lifeguard, because it is basically just being a childminder for the younger residents of the resort and she craves more excitement.
Andrea and Emma are trying to help Jeremy Door choose a location for his concert at the resort, but his incredible fussiness is making their task impossible to achieve.
Meanwhile, Mia, Olivia, Liz and Zobo have to solve a problem with massive amounts of trash accumulating in the bay near the resort.
Synopsis: Mia's competiveness with Vicky causes her to become reckless on the race track.
When Olivia's mother is called away for an emergency, Emma and Andrea become horse sitters for the day.